Judge Diana McGinnis
Precinct 2 Justice of the Peace
2840 HIGHWAY 35 N
ROCKPORT, TX 78382-5711
Phone: (361) 790-0131
Fax: (361) 790-5392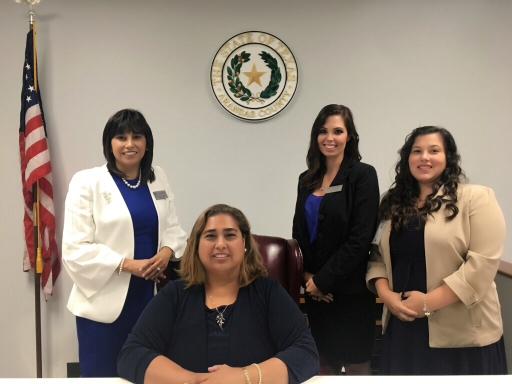 From left to right: Juvenile Case Manager, Lora Rios; Judge, Diana McGinnis; Chief Court Clerk, Cheryl Smith; Court Clerk, Shelby Nguyen
HURRICANE HARVEY UPDATE
The Justice of the Peace, Precinct 2 Office has moved to the Long Term Temporary Courthouse located at 2840 HIGHWAY 35 N (Old Ace Hardware). We are accepting payments via money order, by mail, and through Official Payments. To mail payments, please send to "Aransas County ATTENTION:JP2, 2840 HIGHWAY 35 N, ROCKPORT, TX 78382-5711". For Official Payments, please call 1-800-272-9829 or go online to https://www.officialpayments.com. Use jurisdiction code, 6622. You will need either your case number or your citation number. Request for Driver Safety Course or Deferred Adjudication can be obtained here on our page. All of our forms are provided as well as instructions. You may contact us via email through our contact page or by clicking here. We appreciate your patience during our Hurricane Harvey Recovery Efforts.
The justice of the peace is the legal jurisdiction closest to the average citizen.
Section 19 of Article 5 of the Texas Constitution provides that: justice of the peace courts have original jurisdiction in criminal matters of misdemeanor cases punishable by fine only and such other jurisdiction as may be provided by law. Original jurisdiction is the authority to accept a case at its inception, try it and pass judgment based upon the laws and facts. This is distinguished from appellate jurisdiction which is jurisdiction to review a court's action. The justice of the peace performs the functions of a magistrate and conducts inquests.
A justice of the peace may issue warrants for search and arrest, conduct preliminary hearings, administers oaths, perform marriages and serve as a coroner in counties where there is no provision for a medical examiner. The justice court also functions as a small claims court in civil matters in which exclusive jurisdiction is not in district or county court and the amount in controversy does not exceed $10,000. They can also deal with matters concerning foreclosure of mortgages and enforcement of liens on personal property.
JP2 - Jury Duty Information
No jury duty information is available.


Click Here For The Jury Duty Information Page