In 2009 Rockport Fulton was selected as a Visionaries in Preservation (VIP) community to work with the Texas Historical Commission (THC) to involve the community in planning preservation efforts through visioning and planning A master plan for historic preservation was written and task forces organized. That effort is an on-going process. Several task forces have been very active in accomplishing their goals. More detailed information can be found here.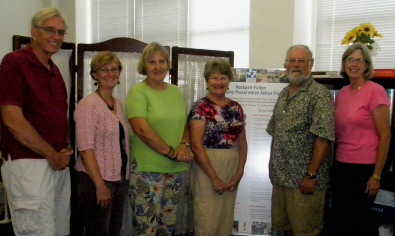 Task Force Chairs and Vice Chairs of Visionaries in Preservation (VIP) Program

Left to Right: David Murrah, Marsha Hendrix, Kam Wagert, Pam Wheat-Stranahan, Rusty Day, Sara Walvoord
Not Shown: Eileen Bonner, Roberta Sherer and Richard Dias.
| Task Forces | Chair | Vice Chair |
| --- | --- | --- |
| Heritage Tourism | Kam Wagert | Sara Walvoord |
| Historic Survey | David Murrah | Marsha Hendrix |
| Public Enterprise | Eileen Bonner | |
| Public Policy | Roberta Sherer | |
| Education and Communication | Richard Dias | Rusty Day |
Click here to see the February 2010 Update Brochure.